Enroute to
Mt. Timpanogos Summit
Celebrating Success
of our 20th Annual Event!
Oral Health Education
& Treatment Projects
Ensure Your Good Works
Are Not Kept Secret
Let CFAC Show
How You & Your Practice Can
Each year, Dentists, their Teams, Industry Participants, and Lay Persons convene for a most special weekend of food, fun, fitness, and Philanthropy at one of North America's most spectacular destinations.
To celebrate our Twentieth Anniversary
(and 21st consecutive event)
Climb For A Cause is
GOING INTERNATIONAL!
The Panorama Ridge Trail in Mt. Garibaldi National Park!
Space is limited so Sign up today!
Twentieth Annual Climb For A Cause Event
Mt. Timpanogos, Utah SUMMIT!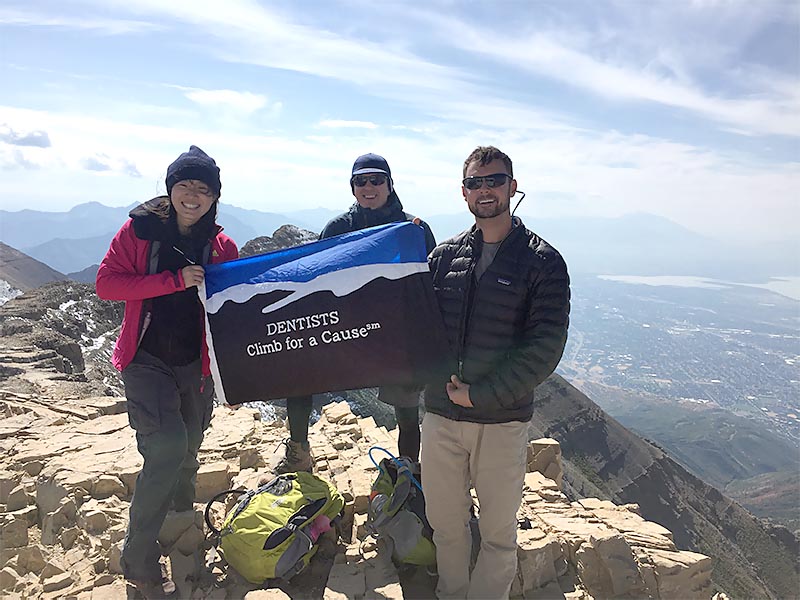 Three Summiteers proudly display the Climb For A Cause Banner atop Mt. Timpanogos!
THANK YOU FOR SERVING!
CFAC executive director Danny Bobrow and 19 others spent a week in Houston helping repair 4 homes damaged by Hurricane Harvey as part of the Barrington Regional Hurricane Relief Team
Photo: Courtesy Bob Lee

We are a non-profit Foundation that combines the breathtaking beauty of the mountains with the desire to make a positive difference in peoples' lives. Since 1998, CFAC and Smile Tree have helped improve the lives of countless needy children and deserving adults throughout the world. So join the fun and make a difference because, success in life truly is..
…doing well while doing good.
Learn about The Smile Tree!
Customers shop. Amazon gives.
Shopping is easy with Amazon's Gift Guides. #StartWithaSmile at smile.amazon.com for your shopping and
Amazon donates to Dentists Climb for a Cause Foundation.