CFAC Project
Report for 2011
In July 2011, CFAC/Smile Tree sponsored two dental clinics serving children in the Mayan Highlands of Guatemala. The first clinic hosted four dentists, two hygienists and 9 non-dental volunteers who worked for an intense week treating 590 children with full care – exams, cleanings, fluoride, restorations and extractions.
The second clinic was held for students at the University of Colorado Dental School. Twenty two students and their professor worked long hours to bring care to an additional 390 children.
While clinic days were long, the smiles of excited children made for a rewarding experience. Each day children from a local school would line up before volunteers even arrived at the clinic site. Many children were returning for their first check- up following, at most, a two year interval. Volunteers were delighted to see how excited and enthused these children were about their return visit.
In addition to treatment, each child received a fluoride treatment, a new tooth brush and oral hygiene instruction. The 980 children treated were from three local schools in the area surrounding San Marin Jilotepeque in Guatemala.
Accomplishments Prior to 2011
Together we have hosted ten dental camps – two in 2007 and two in 2008 in San Martin Jilotepeque, three in both 2009 and 2010 in San Martin and Patzum.
In total, these ten dental camps have treated 4414 children and produced $1.16 million in donated dental care to children (US equivalent). Work includes 1043 cleanings, 4140 fillings and 1419 extractions of infected teeth.
Dental camp volunteers over the four years of operation include: 44 dentists, 16 hygienists and 91 non-medical volunteers
During each visit, children receive a toothbrush and extensive tooth brushing and oral hygiene instruction. The goal is to build strong oral health habits that are reinforced by continued treatment of each population every two years.
Schools treated to date include the El Sauce School, EORMC School and La Pedrara in San Martin and several smaller schools in Patzum.
CFAC investments in equipment for the Guatemala clinic have totaled $48,000 in dental equipment and approximately $3000 a year for usable dental supplies.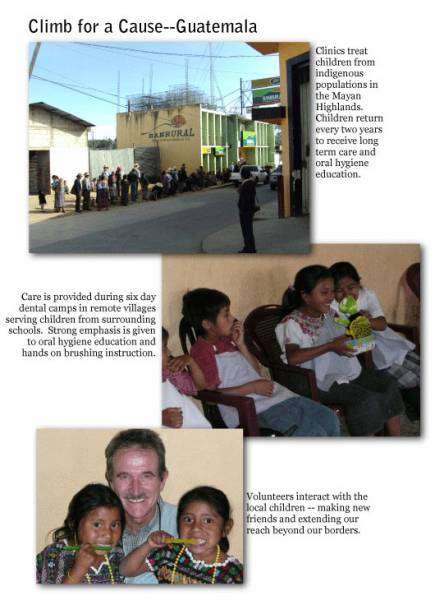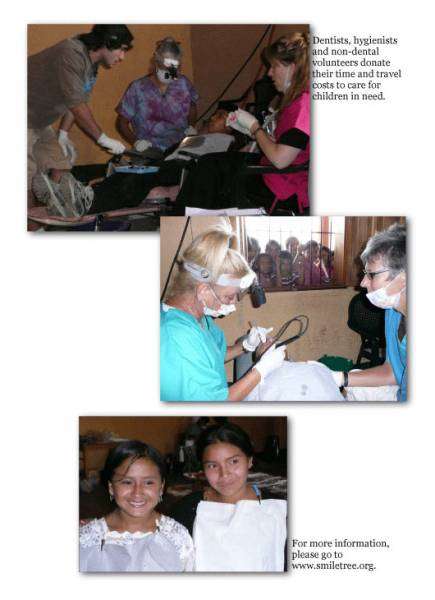 CLIMB FOR A CAUSE/SmileTree Clinics Report
Many thanks for your longstanding support of our work in Guatemala to provide children of the Mayan highlands with first time dental care. Dental care is crucial to the overall health of a child. Ongoing care significantly reduces infection, chronic pain and susceptibility to systemic disease, giving children healthy smiles and leading to longer, healthier lives.
Each year we also get better at providing care – we treated 50 percent more children than in our first year, 2007. This is due to our continued investment in equipment to expand to six portable dental stations, and to the return of previously treated populations which involve somewhat less dental work per child.