To mark our Fifteenth Year, we've chosen for 2012 a very special Destination indeed:
Zion National Park in Utah!
The FUN begins on Friday, September 28th!
Timeline of Events
Friday, 9/28
5:30 p.m. Old Timers', New Climbers' Meet 'n Greet and Pre Hike Briefing
Saturday, 9/29
The Main Event: This year Group A will hike on Saturday and Group B will hike on Sunday, on your day off choose from many non-sponsored hikes or relax and enjoy what the beautiful Cable Mountain Lodge has to offer!
ZION NARROWS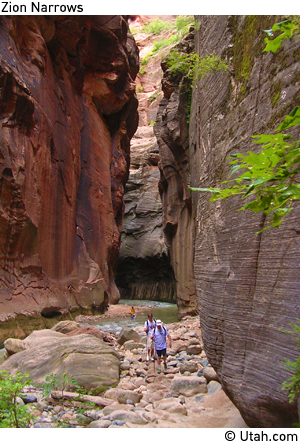 Rated Number Five in Nat Geo's Ratings of Favorite Hikes
Sunday, 9/30
Group B will hike the Zion Narrows, see above.
Non-sponsored hiking option:
Angel's Landing hike. Reminiscent of Yosemite's Cable Route. A great 5 hour round trip. Beautiful views rivaling our 2009 Half Dome Event. Points of interest include:
Walter's Wiggles – switchbacks galore
Scout's Landing- analogous to the Sub-Dome on Half-Dome.
Turnaround Point For The Less Intrepid
Ridge leading up to Angel's Landing – Awesome Scenery.
Angel's Landing – Even More Awesome Views Of The Valley.
Followed by a CFAC Tradition:
The Awards Ceremony and Banquet
» For answers to Frequently Asked Questions(FAQs) CLICK HERE